Rell Sunn broke through gender barriers in the professional surfing world,
making a name for herself as one of the first female
pro-surfers and an all-around waterwoman.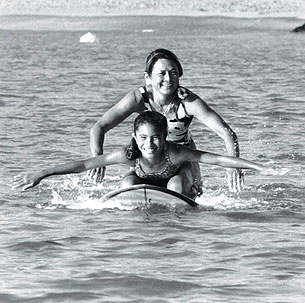 She could tell the size and direction of the swells on the beach at Makaha by the sound of the water hitting the reef. Listening from her little house on Oahu's West Side, she knew the surfing conditions before getting out of bed in the mornings and structured her day accordingly. If she heard the water echoing way on the outside, no surfing at Makaha. Maybe diving then. Or canoeing. The ocean held endless possibilities for Rell "Kapolioka'ehukai" Sunn, whose middle name means "Heart of the Sea." In the Hawaiian tradition, her grandmother named her even before Sunn was conceived. It was the perfect herald for a girl who would one day catch the first waves of the professional women's surfing world.
Films like last year's Blue Crush and television shows like MTV's Surf Girls have helped generate new interest in female surfers. Despite the continuing challenges in a sport dominated by men, more women are entering the world of pro-surfing competition. But the journey to this point started many years ago with a handful of women who determined to paddle out with the boys. In Hawaii, one woman who demanded a place in the professional lineup was Rell Sunn.
She was born in Makaha on Oahu in 1950, the second youngest of five kids, a wonderfully "local" combination of Chinese, Hawaiian and Irish heritage. From her earliest days, her life revolved around the ocean. She began surfing at the age of 4 and spent her childhood learning to dive and exploring the reefs of her hometown. When the Makaha International Surfing Championships came to town in the mid-1950s, she got her first taste of the international surf scene, watching her heroes riding the waves with surfers from all over the world.
Sunn grew up learning the sport in the Hawaiian tradition from men like the great Duke Kohanamoku, Wally Froiseth and Rabbit Kekai — a young girl with a hungry look in her eye, soaking up surfing lore like a sea sponge. "People from all over the world came out to Makaha. There were these men, telling these great stories, and I swore then that women could tell these same wonderful stories," she says in a 1997 interview in Heart of the Sea, an award-winning documentary about her life by filmmakers Charlotte Lagarde and Lisa Denker.
In 1976, she joined a small group on the first international professional circuit for women, a roster that included Jericho Poppler, Patti Paniccia and Becky Benson. It was a constant battle, resisting the "T-and-A" images used by the media to sell the female surfers as a novelty and fighting to be respected as the professional athletes they were. "When we went to South Africa, we just pawned everything," recalls Sunn in the documentary. "We sold our cars — everything — just to go. And when we got there, they said, 'Oh, no, there's no money in the women's contest.' We said, 'It's a pro event, right?' They said, 'Oh, well, about $300' — and we just fell apart, you know, because it cost us $1,700 to get there."
Fueled by an increasing frustration with such inequities, Sunn, Poppler and other women on the tour formed Women's Professional Surfing in 1979, one of several organizations that sought to provide female surfers a voice in the professional community.
As a result of her determination and early efforts, Sunn went on to become one of the most accomplished female pro surfers, winning her a place in the history books and launching the documentary on her life, a museum exhibit at the International Surfing Museum and a new play commissioned by the respected Honolulu Theatre for Youth (HTY). But her deep connection to the sea extended beyond the world of competitive surfing. Sunn was known as a waterwoman. "It wasn't just that she was a fantastic surfer; she was fantastic with everything that had to do with the water," says Bryan Wake, who is writing Queen of Makaha for HTY.
"Some of the guys would hit one fish and their spear would go over the side of the ledge, deep to the point where guys can't dive," recalls Brian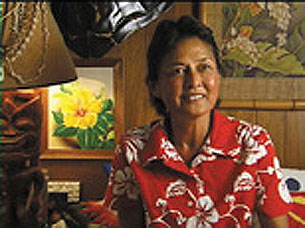 Keaulana, himself a gifted waterman. "And everybody would look at Rell and [ask] 'Rell, can you get my spear?' And she would dive down, grab the spear and bring them up with the fish on top."
Following Hawaiian tradition, Sunn fished with a three-pronged spear — no air tanks, no spear gun. Friends recall the marks of her diving mask always on her face, the skin of her hands and feet cracked from so many hours of fishing and diving. Her skill served a practical purpose as well — putting dinner on the table when money was tight. "I learned so much from those times and I can only hope that I will pass them down to my beautiful daughter as well," says her daughter Jan.
It was Sunn's abiding love for the sea that helped her through the all-out fight of her life — breast cancer. In 1982, while toweling off after her heat during the pro tour at Huntington Beach, Calif., she felt a lump in her breast. She was diagnosed with cancer in 1983. She was just 32 years old, number one in the pro-rankings and in the best physical condition of her life. At that time, the prognosis was one year.
Sunn refused to let that slow her down or define her boundaries. She continued to surf every day, despite the overwhelming difficulties that came with her diagnosis — debilitating pain from the disease, medications and treatments, and the attendant financial strain, which worsened when one of her sponsors summarily dropped her from their roster after learning she had to have a mastectomy. "It was so bad. In Hawaii, you live in a swimsuit, you mow your lawn, you go shopping, you do everything in a swimsuit. And so they looked at it and just thought, 'You're different and we just can't have you,'" she says in the documentary.
Over the next 14 years, she battled the cancer into remission three times, enduring numerous procedures, including a mastectomy and a bone marrow transplant. But even miles away from her beloved ocean, the strength she had always found in the water flowed through her, helping her through some of the most daunting passages in her fight. Just after the bone marrow procedure at MD Anderson Hospital in Houston, Texas, Sunn dreamt of the sea. "I was paddling for a wave and it would never develop. The water was powder blue as if the surf should be bigger. I kept paddling and I could never catch a wave and it was really frustrating. And then finally I caught a wave, and it actually crested and broke. I woke up, I looked at my sister and I said, 'Did you see it? I finally caught a wave!' and she said, 'Oh my god, you've been in a coma, I didn't think you were going to make it.' I really believe surfing saved my life," she recalls in the film.
With her characteristic warmth and sunny smile, she plunged into the cause of breast cancer education, while continuing her quest for professional surfing titles and being a parent. "There was something kind of magical about her," says Sonja Evensen, a longtime friend and former pro-windsurfer. "She would make you feel like you could do whatever. This, 'the whole world is out there and I can do anything' kind of feeling. She was everybody's cheerleader."
Sunn helped pilot a program for breast cancer awareness at the Wai'anae Cancer Research Center, educating local women about cause and prevention. By now known affectionately as the "Queen of Makaha," Sunn also continued to organize her annual Menehune Surf Contest for kids. "I think it's important for a girl growing up to have a sport. Surfing is wonderful because of the self-esteem you get from surfing — you can get last in your heat, but you feel like a winner all the time, and that's what the ocean does for you," Sunn says in the film.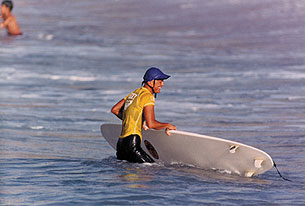 The Menehune contest provided a focal point for Makaha kids in a town beset with a high drop-out rate, drug problems and teenage pregnancies. Sunn taught those kids to dream big. In 1995, to the marvel of many, she took the contest to the Biarritz surf festival in France. "You're dying of cancer and you're sick and you take 20 some odd kids on a trip halfway around the world — my god!" says Fred Hemmings, a Hawaii state senator and former pro-surfing champion.
Many of today's hottest young pros caught the surfing bug at the Menehune contest, including Rochelle Ballard, Megan Abubo and Keoni Watson. In an interview on the International Women's Surfing website, Ballard lists Sunn first among her influences. "I have been greatly affected by Rell Sunn; her love for the ocean, sharing the joy of surfing with the world, and helping the keikis [kids]," she writes.
All of that "aloha spirit" came back to her when Sunn needed it the most, sustaining her through the endless cancer treatments and constant financial difficulties. Friends, family and local celebrities held fundraisers to help pay her exorbitant medical bills, and whenever her treatments led her to the mainland, a flock of cards, flowers and leis followed her. After one of her chemo treatments, she wore a little skull cap in the water, but it came off. Embarrassed, she drove straight home, leaving her surfboard on the beach. The next day, all the most respected watermen in Makaha donned similar caps in solidarity.
And through all of the turbulence, there was always the sea, and her profound belief in auma kua, the Hawaiian tradition of those who have died passing into the water, becoming part of the life of the ocean. When Sunn passed away in the early days of 1998, more than 3,000 people packed the beach, her friends bringing water and sand from oceans around the world to be scattered on the waves with her ashes. She left behind a legacy that has spread far beyond her beloved Makaha; she touched so many people with her grace and strength. "She's my hero, and that's all that really matters," says Jan.
After the memorial service, a hundred surfers grabbed their boards and paddled out, catching a last wave with their Aunty Rell. And that is where they will always find her, their auma kua, defying gravity with effortless grace, flowing in a beautiful line with the wind and surf, making anything seem possible.
thanx to the 'Asian Lifestyle' website